FOR RUNNING
Under Armour
Mens HOVR Velociti Wind 2

https://www.lifestylesports.com/ie/mens-hovr-velociti-wind-2-12594930.html
Colour: Green
Code: 12594930
12594930
Description
UNDER ARMOUR MENS HOVR VELOCITI WIND 2
There's fast, and then there's UA Flow fast. Lightweight, rubberless, and durable, their newest cushioning gives a close-to-the-ground, grippy feeling of speed. The kind of speed that feels like you've got the wind at your back.
Style code: 3024903-300
THE FINER DETAILS
Connects to UA MapMyRun: tracks and analyses your running metrics to help make you a better runner.
Upper optimises containment with lightweight lockdown and allows maximum breathability
One-piece midsole provides responsive and long-lasting cushioning
Flow technology eliminates the outsole, creating a more lightweight and seamless ride on any surface
Outsole material is super-durable and increases ground traction
Product Technology: Flow
Upper: Warp
Midsole: Flow
Outsole: Rubber
WARP UPPER
The yarns on the upper are woven in two main directions to support stability and to support toe-off when running. The UA Warp lattice is miraculously minimalistic and snug all at once. It's like the upper isn't there. The trainer grips on just about any surface—lose less time on corners, braking, and speeding up. This new cushioning is soft, but surprisingly tough and grippy—which means you don't need rubber. That's why it feels so light, smooth, and insanely fast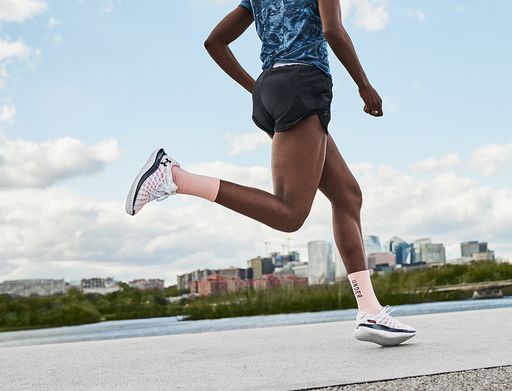 FLOW MIDSOLE
The newly engineered foam midsole extends to the ground providing essential cushioning and energy return while also delivering great traction. This all-in-one cushioning and sole system is totally rubberless, so you get a light, close-to-the-ground feeling.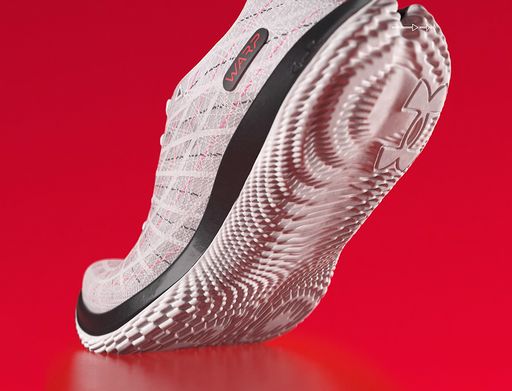 MAP MY RUN
MapMyRun™ connects to the Velociti Wind trainers and allows real-time, personalized coaching tips improve your form, which can help you get fast, faster.