SALE
Nike
Womens Air Zoom Pegasus 37 VT

https://www.lifestylesports.com/ie/womens-air-zoom-pegasus-37-vt-22274800080.html
Colour: White
Code: 22274800080
22274800
Description
Nike Air Zoom Pegasus 37
The now-iconic Nike Pegasus has come a long, long way since its debut back in 1983. The Pegasus is now in its 37th - yes, 37th! – edition.
The new Nike Pegasus 37 delivers that familiar fit, feel and responsiveness along with some serious innovation upgrades including a new, thicker Zoom Air bag in the forefoot, Nike React foam in the mid sole and Engineered Mesh in the Upper. The Nike Pegasus is the perfect choice whether you are an everyday or elite runner; we think you'll love the light, responsive ride combined with the breathability and support from this outstanding running shoe.
WHAT'S NEW IN THE NIKE PEGASUS 37?
The biggest change in the Pegasus 37 is a brand new forefoot airbag, it's thicker than in previous versions giving you greater responsiveness and energy return as you run
The brand new midsole in the Pegasus 37 is made from Nike React foam, it's the cloud-like cushioning that you'll have spotted in other Nike shoes that is very light and springy. It's Nike's most durable foam; staying strong and offering you unparalleled performance, time after time.
The engineered mesh upper of the Pegasus 37 is mapped across the foot to deliver breathability and structured support where you need it most.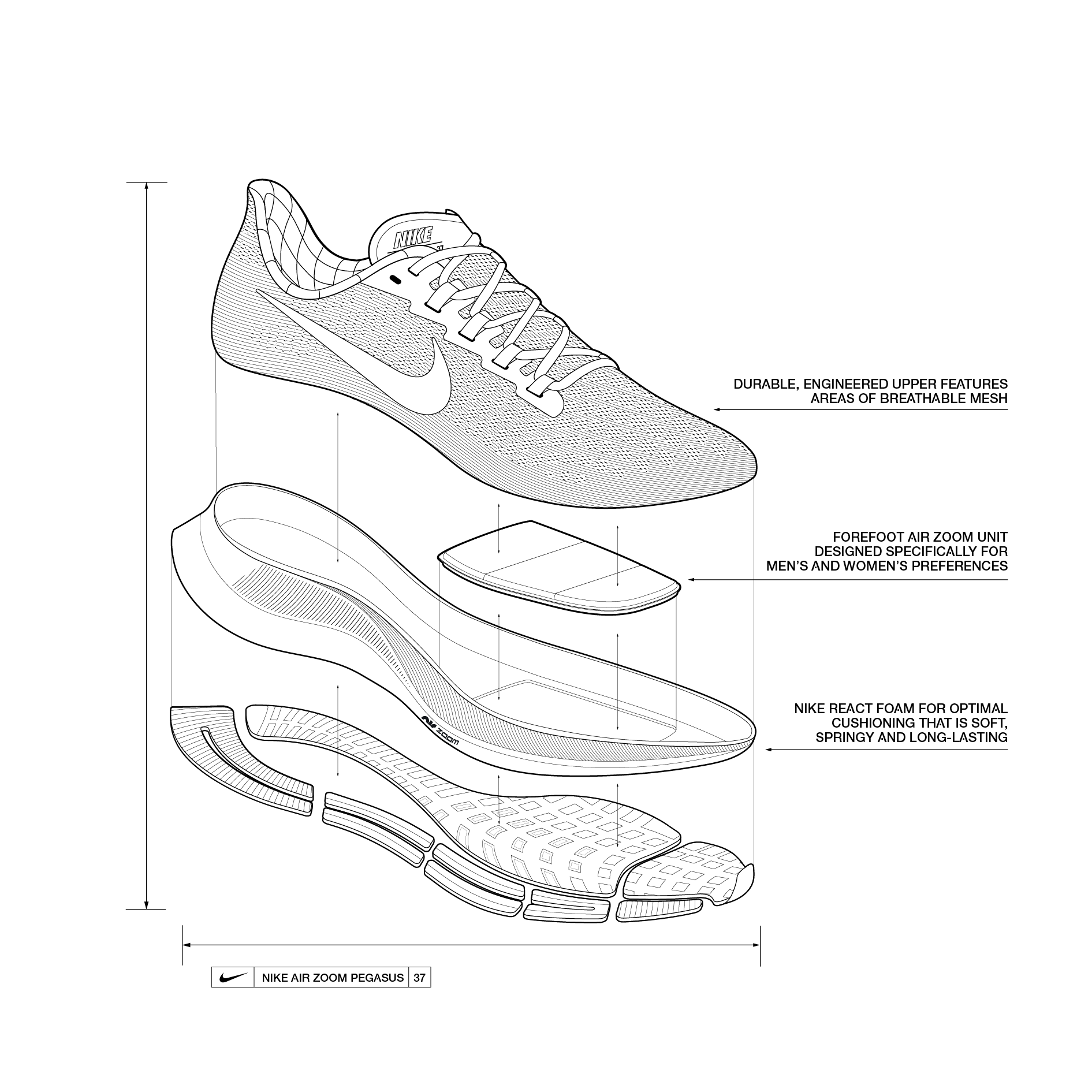 BEHIND THE DESIGN NIKE AIR ZOOM PEGASUS 37
Tara Schick from Nike Running takes us behind the design to explain the new innovation in the Nike Air Zoom Pegasus 37.
Fit
Too Small
Perfect
Too Large
Would you recommend this product to a friend?
Yes (4)
Related articles from the blog